I love lahmajoun, aka Armenian pizza, and I'm sooo happy that I was able to recreate a paleo version that really tastes no different than the traditional version! This doesn't taste like your regular pizza. I don't even know why they call it pizza…maybe because the dough is in a circle and there are toppings? I don't know, but I remember being at my grandma's house when I was little with my cousins and we asked what dinner was going to be. My mom told us we were having Armenian pizza, and I just couldn't wait-pizza!!! I love pizza! And then it was time for dinner and she brought it out…I was sorely disappointed, and quite angry. As a child, it was NOT what I was expecting…but now that I'm older I LOVE it!
Crust: Find recipe here
Meat topping:
- 1 pound ground beef (I used 96/4 lean ground beef)
- 3/4 medium onion, finely chopped
- 1 red pepper, finely chopped
- 1/2 green pepper, finely chopped
- 1 can (16 oz) Italian style tomatoes (mash them up first and do not use the remaining liquid)
- 2 tablespoons tomato paste
- 2 tablespoons almond flour
- 1 teaspoon crushed dried mint
- 1/2 cup minced parsley
- 1 clove minced garlic
- 2 teaspoons salt
- 1 teaspoon paprika
- 1/4 teaspoon cayenne pepper
Directions:
1. Preheat oven to 425F.
2. Mix all of the ingredients for the meat topping in a large bowl until fully incorporated.
3. Spread your pizza dough into small circles, about 5 inches in diameter each. Bake for 8-10 minutes.
4. Take your crusts out of the oven and increase oven temperature to 450F.
5. Spread a thin layer of meat topping onto each crust.
6. Place back into the oven when it reaches 450F and bake for 12-15 minutes, or until meat has browned.
7. Serve with a sliced lemon. You have to squeeze lemon juice on top before you eat it-it's just a sin if you don't.
Optional: Top with cashew cream like I did! (Recipe for that coming very soon, so check back!)
I had to make the cashew cream pretty for the picture…and then I just got back to real life…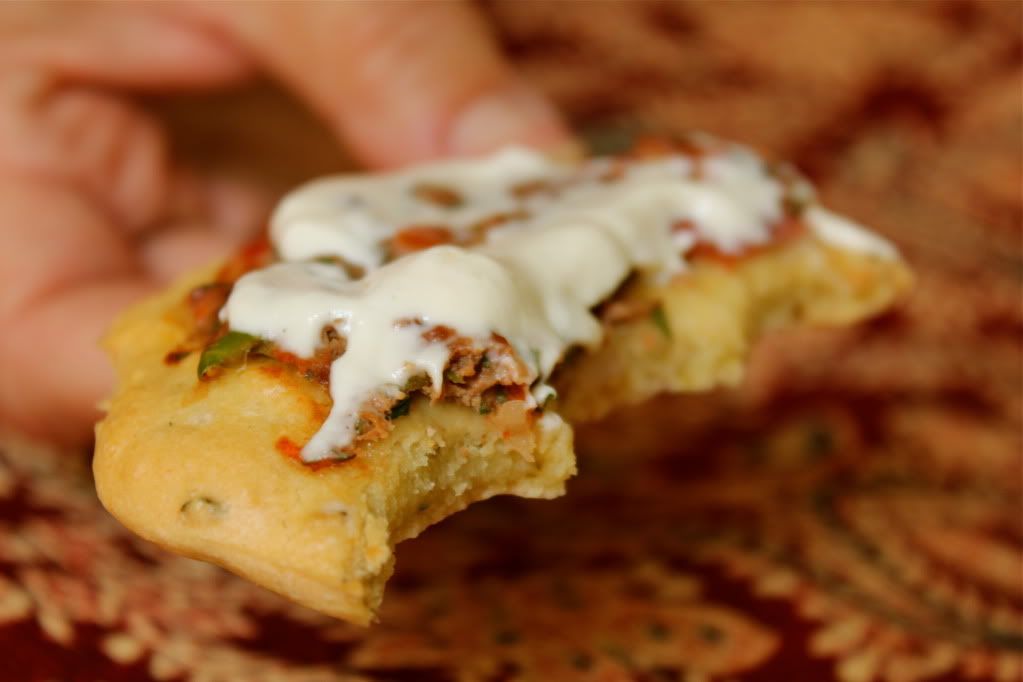 YUM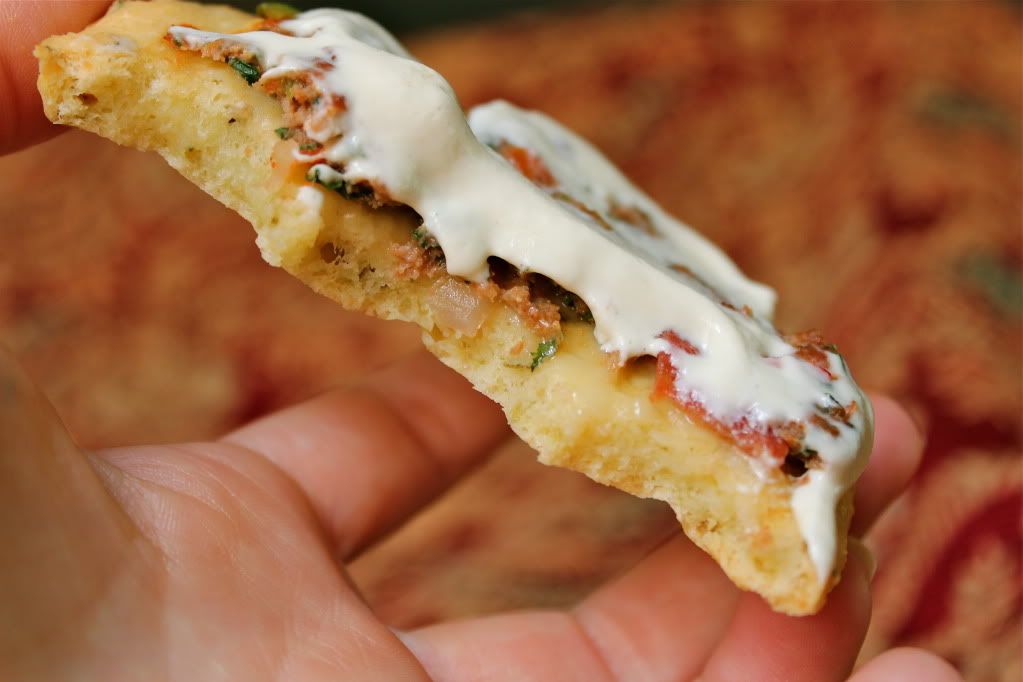 And like I said…
Share and Enjoy
Related posts: