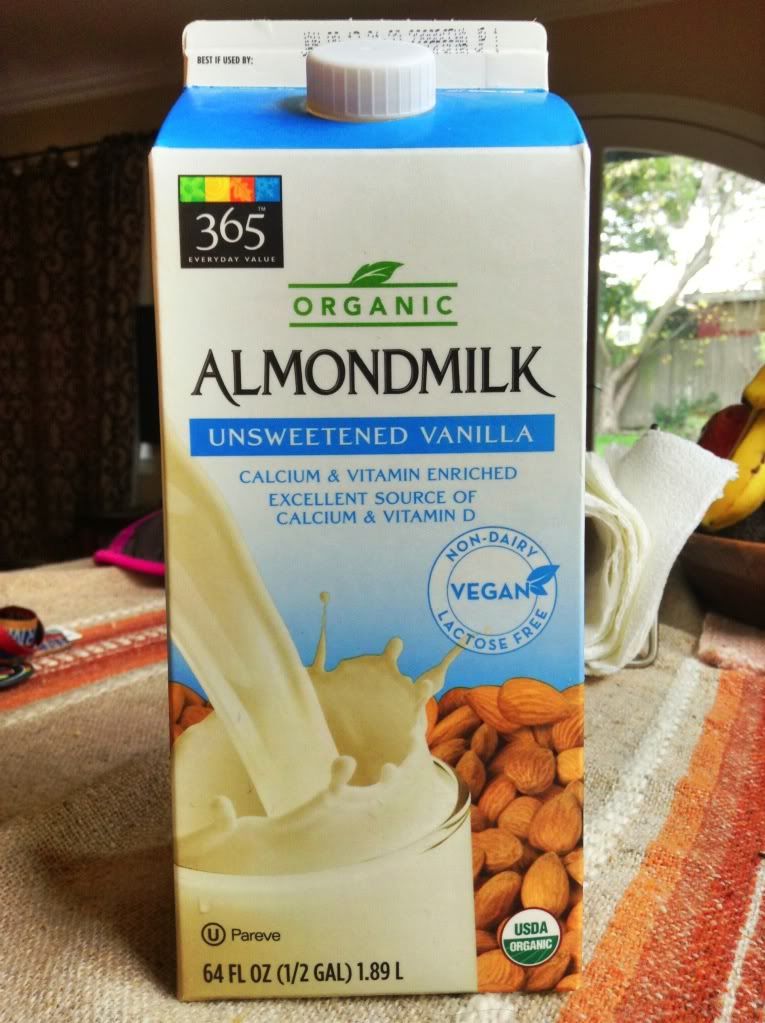 Milk (well, this isn't really milk) is generally not something that excites me…but this…I am excited!!!
As I was Pinteresting I came across a blog post by Undressed Skeleton where she mentioned 365 almond milk (Whole Foods' brand of almond milk.) She said she used to drink Silk almond milk, but after tasting the 365 brand she would never go back.
Hmmm…interesting. I had to try it. I didn't think I'd taste much of a difference because, well, almond milk is almond milk.
Right?
WRONG.
I bought a carton (ok, I had my mom go to Whole Foods and get it for me…) and immediately poured myself a glass. I noticed that it was a tiny bit thinner than Silk almond milk, but that didn't really matter to me.
I took a sip and thought, "OMG, this is really good!" I definitely liked it better than Silk, and it had a familiar taste that I just couldn't put my finger on.
I called my sister in to the kitchen to try it since she's a fellow almond milk drinker. I tried to explain the taste to her before she took a sip…
"It's so good! It tastes different from the other almond milk. I don't know, this one has more of a vanilla taste…well…not vanilla. I don't know how to explain it…it's just better!"
She took a sip and completely agreed that it had a different, and better, taste. We both tried to come up with the word to describe the difference…all we were coming up with was "more vanilla", but that just wasn't right.
She took another sip and exclaimed, "Lucky Charms!!!"
YES! That was it! That was the wonderful, familiar flavor I was tasting!
It's a very mild taste. It's as if you put just two Lucky Charms marshmallows in your glass of milk. Mild, but definitely there.
And then I had a brilliant idea…
Add a few drops of NuNaturals liquid stevia to my glass to make it sweet!
GENIUS! It tasted like I was drinking the leftover milk at the bottom of a bowl of Lucky Charms!
I don't know if that's what you will taste if you try 365 almond milk, but the flavor of Lucky Charms really stands out to me.
Omg heaven.
Share and Enjoy
Related posts: