Wow, it has been TOO long since I last posted. There's been a lot going on…or maybe a lot of nothing going on.
My lower back has been bothering me on and off for YEARS, and the only thing that seems to help is rest. I met with a physical therapist right before Thanksgiving and she told me that I have low tone, and that it is not sciatica or a pinched nerve, so I was definitely happy to hear that…but, she insisted that I stop lifting weights for two weeks. That meant I couldn't go to CrossFit, and I was not happy about that.
Two weeks went by, and then it was time for finals. Finals ended, and then it was last minute Christmas shopping. Last minute Christmas shopping happened, and then it was Christmas. Christmas happened, and then it was New Years!
These are all a bunch of excuses and the bottom line is that I didn't go to CrossFit, or work out at all during that time, but I'm back on track now. I've been following an old lifting routine that I did before, I took my dog on a run today, and I hope to be back to CrossFit on Saturday!
As for my diet…let's see…chocolate dipped biscotti, Greek New Years bread, Armenian boureg, pasta with burnt butter and tons of cheese, banana and caramel pancakes…I think I've told you enough.
I still love the paleo diet, but I've made some adaptations to create "my" paleo. Paleo people just love the phrases "my paleo" and "your paleo", don't they? Is it just a way of saying, "This really isn't paleo, but I really want to eat it, so now this is 'my paleo.' Rice, cheese, and protein powder aren't paleo, but I just really like them, so I'll include them in MY PALEO."
Yeah…I'm sticking with gluten free, wheat free, refined sugar free, and limiting soy. I'd also like to try and be as grain free as possible. I've sort of merged my old heating habits with the paleo diet, and I'm loving it! I've been doing a lot of posting on Instagram (watch out for lots of pictures of Sosi-I can't help it…it's a healthy obsession) with photos of what I've been eating and recipes. I'd love it if you came and visited me there! My username is TheBaboo.
Like I said, I still really like the paleo diet, so I plan on continuing to post recipes here!
Here's a simple one that many of you have probably heard of, but if not-you're in for a treat!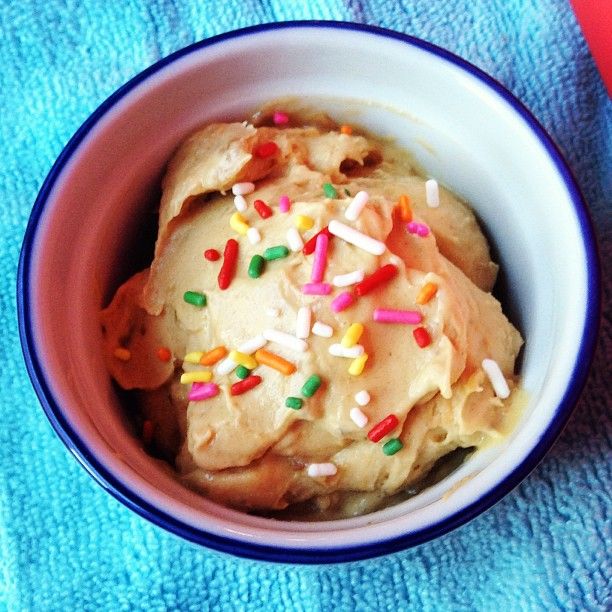 Healthy Frozen Yogurt
Ingredients:
- 1 medium & ripe banana, chopped and then frozen
- 1 frozen chunk of sweet potato from a bag of Trader Joe's frozen sweet potatoes (optional)
- 2 tablespoons nut butter (I used peanut butter-not paleo, I know!)
- 3 drops NuNaturals liquid stevia
Directions:
-Put everything in your Vitamix and blend on a low speed, scraping the sides until smooth. This has such a creamy texture-even creamier than regular frozen yogurt!
Share and Enjoy
Related posts: